Curator's Choice – By
Diane Williams
Canadian Art – Marketing Artists Since 1999!
Canadian art at it's best! We present Canada's most talented emerging, mid-career and established visual artists, featuring a wide variety of styles. From realism and representational art, to surrealism, abstract, and more traditional works. There is something for every art lover, from landscapes of Canada, to native and cowboy art. You'll find figurative art, portraits, nature, equine art and even large scale mural work. We have sculptors, illustrators, caricature artists, and cartoonists; all creating original Canadian art.
Originally launched in 1999, ArtInCanada.com has been supporting Canadian artists ever since, with one goal in mind; to support Canadian artists by helping them expose their art to a global art market, uniting them with Canadian art collectors around the world.
We specialize in art marketing, custom designed artist's websites, and mobile websites optimizing them for the on-line market. We feature an integrated team of creative designers, programmers, and art marketing professionals who have the experience to deliver exceptional online results.

FEATURED ARTIST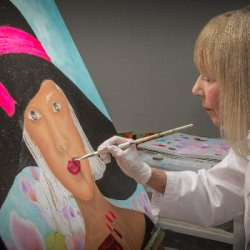 Shelley Lacroix



ART CHATTER Part I Five Questions for Artists on Art Marketing by Art In Canada Inc. Contributor Brandy Saturley

I am an artist, and I like artists. I like artists because they are pretty brave. Brave to be pouring their heart and soul out onto a canvas, a piece of paper, wood panel, wall, or even a ceiling. Artists seize a chunk of clay and shape a piece of themselves permanently into a new form. They write themselves into new worlds and record observations from their perspective through photography. We are brave when it comes to creating, but when it comes to marketing our artwork, most of us would rather freefall off a cliff side, than ask people to invest in our wor....

Read More...