Artist Cindy Sorley Keichinger - AIC Interview
Artist Cindy Sorley-Keichinger says her "inspiration comes form everywhere! I will never live long enough to paint all my ideas. How light strikes a subject, how animals interact, how the environment plays its part. All this and more strike pictures in my mind. It never ends."
Cindy paints what she loves! Wildlife art and nature art, landscape art from all around the world as well as still life and people. She paints the beauty of this world and shares it with others. Cindy is a signature member of Artists for Conservation.
Check out all of Cindy's artwork on her website: Golden K Studio
Question:
When did you realize you had the need to create and develop your skills?
Answer:
I do not remember a time where I was not always trying to improve my skills. I remember starting with stick men when I was very young, and thinking that they needed more. So I gave them more! Clothes, hair, action...step by step. I am still trying to improve my skills, and think that I will be doing it still when I am 100!
---
Question:
Right now, what is your medium of choice and what is your favourite subject matter?
Answer:
My main go to for medium is acrylic. My Grandfather gave me a set when I was a teen, and I worked up from there. I also like to use gouache and oil, but I am most comfortable with acrylic.
---
Question:
All artists at all stages of their career want to try something new, what other medium or subject matter do you see yourself experimenting with?
Answer:
I tried to paint 'more painterly' a few years ago, not a happy time. I was never happy with what I came up with. I finally got fed up and decided to embrace who I was, and do the detail. I have been much happier ever since. I like to add more of a background to my images, and if any area would be a break out, that would be it.
---
Question:
Continuing education, do you partake and if so what did you learn?
Answer:
I like to get a pump up of energy and inspiration so I like to take the odd workshop from artists whose work I admire. The energy from the other participants, and the tricks you learn from the teachers and students, are always nice to get. Painting is very solitary work in many ways, and it is nice to get out and learn and meet others who understand this.
---
Question:
Have you ever taught a class or done an artist talk? If so, what did you talk about or teach? Can people sign up for your workshops and how?
Answer:
I have taught some, but mostly as pro bono in the surrounding area schools.
---
Question:
Have you ever painted en plein air? What was the biggest hurdle for you? Environmental challenges, wildlife, people, weather?
Answer:
Yes I have done plein air, but the challenge is to lock the light, and the subject. Wildlife is not so co-operative in standing still.
---
Question:
Do you do commissions? If so, what is your process?
Answer:
I will do commissions, but I am not crazy about them. I prefer them to say a subject they would like. Then let me go at it. If they like it fine, if not, it goes into inventory, and we try again.
---
Question:
What is your favourite art related quote?
Answer:
It is from Robert Bateman. He was being interviewed while painting a huge bison. During the process he threw a bucket of wash onto it. The interviewer nearly had a fit, and asked what if it is ruined!? His reply: "If you paint it once, you can do it again." Very freeing when you are trying something new!
---
Question:
Do you have a favourite artist and what do you like about their art? Have you ever met them?
Answer:
I have a few favorites, I have been lucky enough to learn from them at their workshops too. Robert Bateman, Daniel Smith, Carl Brenders, Allan Hunt, John Seerey-Lester, Terry Isaac, Guy Coombes would be my top ones. They all do wildlife and they all put background in their work to give you an idea of the environments the animals they depict live in. I cannot say they inspired me to be a professional artist. They inspired me to keep painting what I love to paint. The selling of my work is a nice benefit for something I love to do.
---
Question:
Where do you gather your inspiration from?
Answer:
My inspiration comes form everywhere! I will never live long enough to paint all my ideas. How light strikes a subject, how animals interact, how the environment plays its part. All this and more strike pictures in my mind. It never ends.
---
Question:
Where do you typically create art?
Answer:
In my head, i guess, and from there I go hunting for the details I need. Either out in nature, or my photos I have taken of various elements. Then I put them all together in my studio. Then the hard part is chasing everything away so that I can paint it. If a painting takes too long, it gets bogged down with doubts. So i like to get them done fairly soon.
---
Question:
How do you know when your art is complete?
Answer:
When my husband does not find any more mistakes! lol Seriously, when it no longer makes me twitch... or I feel comfortable looking at it. I feel comfortable, it is done.
---
Question:
What is most challenging to you when starting a new project?
Answer:
Getting the composition right. A lot of times I am so close to the idea, that I fly into it, and will have missed some tangent, or being too close to the middle etc. I have learned to set it out, then leave it for a day and go back to it not so scatter brained.
---
Question:
What advice would you give to an artist starting out?
Answer:
REALLY look at things! Notice the light, the colour, the shape, the context. Then go and set it all down as close as you can. Then go and do it again!
---
Question:
What keeps you going forward with your art in this very competitive industry?
Answer:
Enjoyment. I do not worry if it sells, if I like painting it; that is all that matters.
---
Question:
In your studio, right now, what is your most important tool that you would be lost without?
Answer:
My laptop that has all my reference photos.
---
Question:
What is your favourite piece of work you have created, thus far?
Answer:
My current favorite is still on the easel. They are all favorites, until the next one is started.
---
Question:
What is the most well received piece of art you have created?
Answer:
At the Temple - this won an award and got into several shows.
---
Question:
Do you have a favourite gallery or museum that you visit?
Answer:
Not really, I enjoy them all.
---
FEATURED ART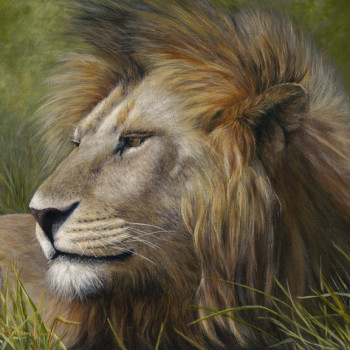 Confidence