Anima McKertcher
Ghanaian born Canadian artist Anima McKertcher creates hyper-romantic oil pastel paintings of beautiful women. Subtly sensual yet serene, her boldly feminine images explore themes of multi-culturalism and racial ambiguity. She plays with skin colours and hair textures, mixing clothing, jewellery and styles from various cultures. McKertcher paints complexions ranging from the darkest black onyx to the palest alabaster. Utilizing delicate layers of flowers and other romantic symbols, McKertcher's pieces are carefully composed to evoke contrasting feelings of intimacy and mystery.
McKertcher works out of her home studio in Edmonton, Alberta where she lives with her husband and two children.
Artist's Statement
I love painting people in general but I especially love painting women. I try to capture the soft glow of light from her skin and the way clothing flows around the lines and curves of her body. My goal is to make the woman look like someone not from this world – a serene and mysterious person who lives apart from the anxieties we face today.
Themes of ethnic fusion, heritage, multiculturalism and diversity run through my artwork. I enjoy painting the same model with different skin tones, hair and eye coloring. I am fascinated by how the same facial features appear when depicted with different coloring. This raises questions about race and ethnic heritage which may not be readily answerable – perhaps hi-lighting that as people we are more similar than different, and our diverse coloring is key to the beauty of the human race as a whole.
Artistic Process
Inspiration for my art comes from many different sources – what I hear, what I see, what I touch. Colors, fashion photography, music and poetry often trigger images in my mind that I'm eventually compelled to paint. By far, though, I'm inspired most by flowers and other beautiful creations on the earth and in the sky.
In my imagination, I layer various elements into scenes that are romantic and serene. At any given moment I have a dozen or more of these scenes in my mind. I may write down a little about the image or make a brief sketch or collage of it so I don't forget before I'm ready to paint.
Oil pastels are my favorite medium because they are creamy, tactile and sensual. Some people have likened using oil pastels to painting with lipstick. Oil pastels have vivid, intense colors and the immediacy they provide is especially satisfying to me.
Most of my paintings are done on canvas. I begin sketching the subject using a warm grey oil pastel. Then I apply many layers of oil pastel with light pressure until the painting surface is thoroughly covered. My favorite blending tools are my fingers and color shapers. I work on the painting in sections, usually starting with the face of the woman. Once a section is near completion I move onto another section. After a section has hardened for a day or two I add more details. I continue like this until the painting is complete.
FEATURED ART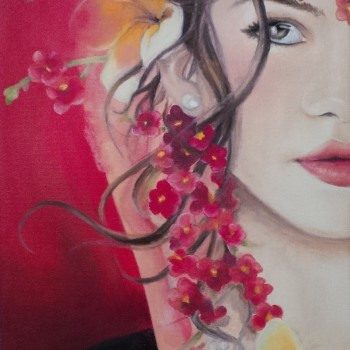 The Flowering Headress