Annette Resler
Life experiences enjoyed by Alberta-born artist, Annette Resler, lead her into the wide world of art culminating in her becoming a full time artist. She credits her Mom for nudging her to take the plunge in pursuit of painting. In visits during her Mom's advanced stages of Alzheimer's, Annette felt a quiet strength emanate as if her Mom was speaking to her, although she was unable to utter a word. These personal moments gave Annette pause for reflection about pursuing things she'd only dreamed of, exploring a road not taken.
Annette's work is representational with a painterly style, primarily in oils, although she is continually advancing her skills in a variety of mediums and genres. Her background as a graphic artist has helped her understand many forms of creating art. Annette encourages conversation about her work, as she believes art should be interactive. A good 'geek out' session of art talk is one of her favourite things!
She has worked with several renowned artists learning important technical and holistic approaches to painting. These artists have greatly impacted Annette's growth and helped guide her towards finding her own voice.
Annette continues to hone her skills in her home studio (with an eclectic selection of music playing in the background). She also paints en plein air at every opportunity (enjoying nature's soundtrack!).
Awakening a latent passion is exhilarating.
Pursuit of one's dreams can be daunting.
Living life without regret is as it should be.
– Annette Resler
FEATURED ART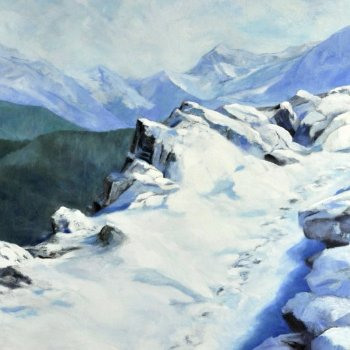 A Road Less Traveled