Bert Liverance
When I was young, my parents always had a ready supply of crayons and paper for me. My Mom took me to art museums in Cleveland and Washington DC where I was exposed to many masters. I spent most of my time creating objects with modeling clay where I developed my passion for three dimensional objects that still influences me to this day. I was first introduced to oil paints while I attended Virginia Military Institute during an art appreciation course in the late 70's. I was an oil painter in search of a subject painting a variety of subjects. Other artists that have influenced me are Georgia O'Keefe, the French Impressionists, and our own Group of Seven.
My passion for flowers began in 1996 when I was inspired by a purple, yellow and white wild Iris. People often ask me "Why Flowers". Flowers offer an unlimited supply of variety, colour and shapes that inspire me. They also interact with light in amazing ways; the light can shine on a flower, through a flower or even back light a flower. Every flower is an education in a colour demanding a unique palette to capture the subtleties.
I am working on my degree in Botanical Illustration from the Royal Botanic Gardens Edinburgh. It is a fascinating program exposing me in depth to botany, water colour, pen and ink, and coloured pencil. It is an intense three year program that is helping me as a floral artist to grow and continue to develop.
Regardless of the medium I strive to capture flowers in a realistic manner so that you can almost smell them.
FEATURED ART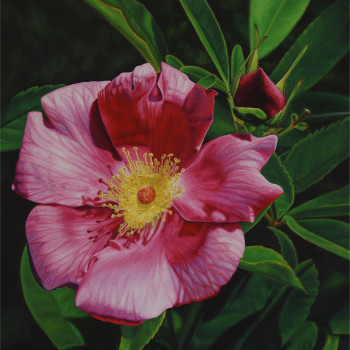 Wild Rose