Bonnie L Hamlin
Known for her mystical realism, Canadian artist Bonnie Hamlin creates powerful paintings of her equine subjects. The time Hamlin spends working with, sketching and riding her own horses is apparent in the accurate handling of her equine subject's anatomy and expressions.
Hamlin's knowledge of art is a life-long learning experience as she continues to add to her extensive library of art books (and more recently DVDs). She has attended workshops with international artists, Zolton Szabo, Clarence Tillenius, John Banovich, Marc Hanson and Greg Beecham. She studied Art appreciation at the University of British Columbia (1964), attended the Forum Art Institute in Winnipeg (1970) and obtained a BA from the University of Manitoba (1996).
In 2007 she was accepted into the International Guild of Realism and was part of the Guild's museum tour from 2008 to 2011. In 2013 Hamlin was awarded signature status in the Institute of Equine Artists (formerly International Equine Artists) and participated in the Institute's 2014 show in the El Paso, TX Museum of Art. Bonnie Hamlin has also participated in numerous group and one person shows.
Hamlin's studio is on the ranch she shares with her husband, four horses, three cats and one dog, in Manitoba's Interlake District.
FEATURED ART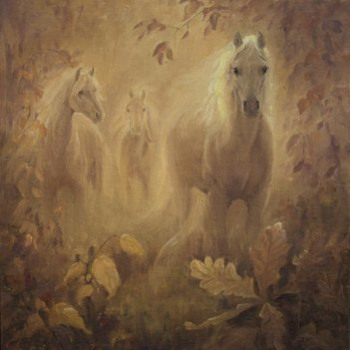 Magic Meadow Visitors