Bruce H. Perry
Bruce is an Alberta born Canadian artist who has always appreciated living in a country with four distinct seasons.  Canada's infinite beauty inspires and adorns much of his work.  He is comfortable painting the easy undulating lines of the western prairies, Rocky Mountain vistas, Pacific and Atlantic coast shorelines.  An assortment of architectural structures such as grain elevators, old farm buildings and prominent historical landmarks are also favorite subjects he has painted.  What makes his art come alive is the vibrant colors, dramatic lighting and shadows that he hopes evokes an emotional awareness in his audience.  The images Bruce produces are of real places, snap shots of day-to-day life that we can all relate to.  Each painting takes on its own unique quality through learned and tried techniques and his artistic vision.  Bruce enjoys working with water- based media and has painted professionally for 30+ years.
Bruce has given to many humanitarian organizations to raise funds for worthwhile causes near and dear to his heart.  Cross Cancer Institute, United Way, MS Society and the Gray Guild are just a few that have received his art and contributions.  He feels enriched by the knowledge that those less fortunate will benefit from his artwork.
Bruce has chosen the giclée print method to replicate his originals as accurately as possible.   Only the finest colorfast inks and 100% acid free watercolor paper is used for the prints.
You can contact Bruce at: 780.450.6424 or bhperry@telus.net
FEATURED ART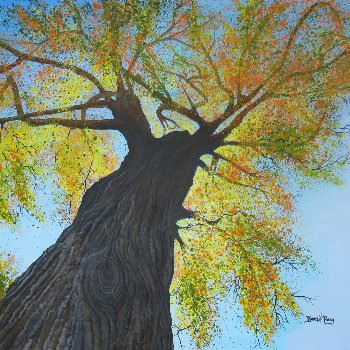 Canopy of Color
Edmonton, Alberta
Canada, T6K 2H4
Phone Number: (780) 450-6424