Carole Rodrigue
Carole Rodrigue is an award-winning artist from Sudbury, Ontario, specializing in realism. Her main focus is working still life and animals, as well as pet portraits.
Carole has had a lifelong passion for art and started oil painting at age 15. A self-taught artist, Carole's goal is to expose the beauty that this world has and to stir emotion in her viewers. She tries to do this by focusing on light and detail, and trying to convey a mood in her painting. Subjects that capture her attention are those that reflect interesting light, texture, and mood. Her pieces are known for capturing a dramatic element and interesting light, and those who view her art in person often comment on the feeling projected. Carole views learning as a lifelong necessity where art is concerned and strives to perfect technique as well as nurture creativity.
Although adept with other mediums, Carole's preference is oil. Carole creates realistic original art which is enjoyed by several clients in Canada and the United States, the United Kingdom, France, Italy, Australia, Russia, Israel, and the United Arab Emirates.
In the last few years, Carole has shown her works at the La Cloche Juried Art Show in 2008, 2009, 2010, 2012, and 2014. She has won awards in the Acrylics category in both 2nd and 1st place, and has also been juried into the Northern Ontario Arts Association annual juried competition and show. Most recently, her painting "Magpie and Apples" won 1st place in the oil category of the 2014 La Cloche Art Show. As a former member of the Sudbury Art Club, she has also shown her work with their Spring and Fall shows from 2010-2013. In April 2013, Carole had her first solo gallery exhibit at Artists on Elgin in Sudbury, Ontario. In 2014, she exhibited with well known Canadian artists in The Grand Art Show, held in Sudbury, Ontario. Carole was honoured to show alongside greats such as Ivan Wheale, world renown for his impressive landscapes.
Carole is also proud to have been selected to be on the creation team for Le Cadeau du Cheval (The Horse Gift ), a larger than life, 20 foot high equine themed mural project from Mural Mosaic in Alberta.
FEATURED ART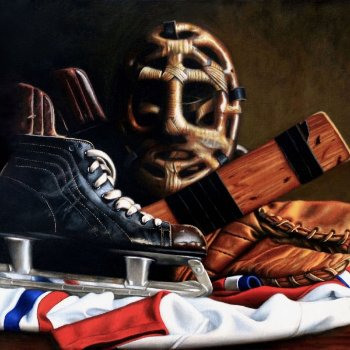 The Best Game You Can Name