Chris MacClure
Chris MacClure 1943-
Chris a Canadian Romantic Realist Fine Art Painter is always looking for that authentic gesture or moment in everything. His paintings are an expression of his "Romantic Realist" view of life. Chris's engaging style is evident in his perfected usage of the color changes and natural compositions.
Born into an artistic family in St. John, New Brunswick on the east coast of Canada, Chris was surrounded by the arts from a young age. His father was a jazz musician and mother a playwright, His grandfather was an illustrator, so it never occurred to him that he couldn't do it. He assumed everyone was an artist.
During his travels he attended Sir George University (Concordia) Fine Arts in Montreal Canada and the Emily Carr School of Art & Design in Vancouver Canada. His works have been exhibited across Canada, the US, Mexico and Hong Kong.
Some of his art has found their way into the collections of John Travolta, Kirstie Alley, James Whitmore, mezzo soprano Frederica Von Stade, drag racing legend Don Prud'Homme , Bill Clinton, Boris Yeltsin, Pepsi Co. and the Ford Motor Co. of Detroit and Prince William & Kate the Duke & Duchess of Cambridge .
Chris also is the founder of "International Artist Day" A special day held worldwide each Oct 25th to honor all artists. Chris also has a membership in the "Allied Artists of America"
FEATURED ART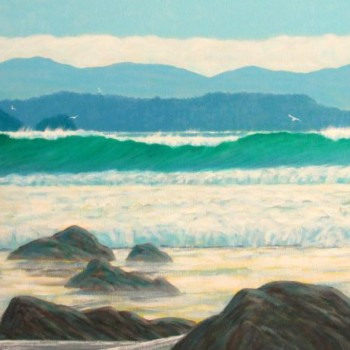 Coastal Magic