Cindy Sorley Keichinger
Cindy grew up on a farm in East Central Alberta, where her parents encouraged an interest in the world around her. She now lives on a grain farm, in the Lloydminster Alberta area, with her husband of 34 years. They have four grown children, and four grandchildren. She originally trained as a Medical Laboratory technician, and had no formal art training.
Cindy has been painting now for around thirty years; of that, seriously painting for about 15. The early years she viewed as her apprenticeship because of being self-taught. Some of her teachers have been the best in the wildlife genre, such as Bateman, Seerey-Lester, Brenders, Daniel Smith, Terry Isaac, and Guy Coombes. She draws her inspiration from the natural world around her, which she finds to be a constant delight. She never grows bored with nature as it is an ever changing subject.
Her approach to painting is to be as accurate to form and habitat as possible. She likes to have punch to her colours, which she gets using acrylic, gouache or oil paint. She uses her own references, as she feels having seen the subjects herself, gives her a better understanding of what she is trying to portray. The nuances of character and personality etc.
Cindy is a member of several guilds; Artists for Conservation, American Artists Professional league (as a fellow) National Oil & Acrylic Painters Society, and Women Artists of the West as an associate member, to name a few. She also chairs the Annual Arts Without Borders Fine Art Show in Lloydminster, Alberta; and has designed a 2015 coin for the Royal Canadian Mint.
Cindy's artwork has been shown across Canada and the United States, and is in collections domestically and overseas. Her work is available through herself directly www.goldenkstudio.com , e-mail goldfarm@telusplanet.net or from Picture This Gallery – 959 Ordze Rd. Sherwood Park, Alberta. T8A 4L7, phone: 1-800-528-4278, www.PictureThisGallery.com
FEATURED ART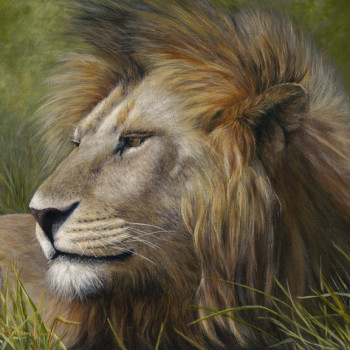 Confidence