Dan Reid
Nostalgic Art by artist Dan Reid. He is a self-taught Canadian artist who has spent all his life on the
prairies. Growing up on a farm in Saskatchewan instilled in him an appreciation for the ever-changing moods of the prairie landscape and its beautiful open skies.
His interest in the vanishing prairie elevator, and antique cars is reflected in many of his paintings, which provide a nostalgic glimpse of Canada's past.
Dan currently lives in Saskatoon, where he finds the Saskatchewan countryside provides him with a constant source of inspiration for his paintings.
Dan's other interests include snowboarding in the winter and in the summer Dan and his wife Jean drive their 1931 Chev street rod, traveling western Canada attending car shows and meeting other car enthusiasts.
Originals, limited edition reproductions, and note cards are available in several galleries and gift shops in Saskatchewan and Alberta. Dan will also be attending art shows and sales throughout the year.
FEATURED ART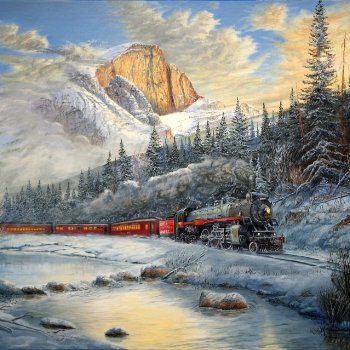 Morning Sun