Deanna Lavoie
Born and raised in Regina, Saskatchewan, making art was a large part of Deanna's life as long as she can remember. She graduated in 1994 with distinction from the Alberta College of Art & Design, in Calgary, while achieving her Bachelor of Fine Arts in 2002. She has completed numerous commissions, her work has been included in exhibitions and collections in Canada, Australia and New Zealand. Recent accomplishments include being a finalist in the prestigious 2013 Gallipoli Memorial Art Awards in Sydney, Australia and in 2015, her acrylic painting, "That Time of Day" was a finalist at the Calgary Stampede Western Art Auction. She has recently painted a 6ft x 5ft commemorative piece to honour soldiers during the 100 year anniversary of WWI.
Deanna Lavoie spent her summers at the family cottage beside Last Mountain Lake, in Saskatchewan where she endlessly explored the rocks, water and prairie. She remembers, "Even during those childhood days, I didn't just look across at the whole landscape and just see the obvious. I had to look closer and closer still and really see what was there…a multitude of textures, lines, shapes and colours found in a simple stone's surroundings." Her fascination for exploration led onto travelling, and to extended residence in both Australia and New Zealand. Her chosen mediums have evolved from etchings to watercolours with the boldness and freedom of acrylics finally captivating her. However, her approach to her work continues to be about layering colours, attention to detail and translating the mood of her own photographic references to the viewer.
Her previous series speaks to the beauty of the foothills, the majestic Rocky Mountains and the surroundings of Longview, Alberta where she resides with her husband, two children, parrot and dog. She is currently working on a new series exploring childhood moments that celebrate a child's imagination, enlightenment and joy in the simple wonders of being alive.
FEATURED ART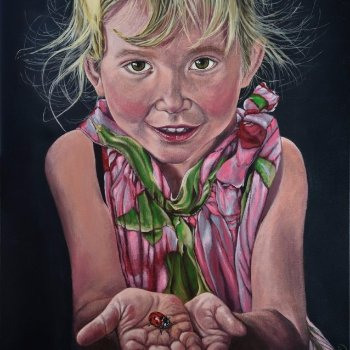 Meet my Friend