Debbie Bruinsma
Debbie is a Canadian artist who grew up and spent most of her life in northern British Columbia. Spending a great deal of her free time travelling in the Yukon territory and the far north of BC, she has a deep appreciation for the quiet beauty that only the natural world has. 
Growing up on a farm, Debbie's biggest influences were wildlife artists such as Robert Bateman. Later, when she went to art class at Northern Lights College, she grew to have an appreciation for the impressionist painters among others. 
Since moving to Nova Scotia in 2017, she has found not only are the maritime provinces just as beautiful but much easier to get to. In less than an hour one can see 300 year old buildings, quaint farms and beautiful seascapes. 
FEATURED ART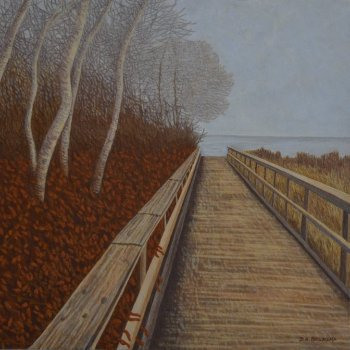 Boardwalk at Amherst Shore
Fenwick, Nova Scotia
Canada, B0L 1C0
Phone Number: (902) 397-2903