Diane M Anderson
My bronze sculptures and paintings are my way to tell stories. If they bring to you a fond memory of a time, place or experience then I have done my job well.
I love that I get to create personal experiences for you the viewer. That's what art is truly about.
I am an Alberta girl at heart but with a number of years in Saskatchewan in a farming community I feel like that gave me lots of experiences to draw from.
Now farming in Alberta, I continue to rely on the rural lifestyle for my subject matter.
I have also been honored to create many commissioned sculptures for monuments and personal collections that encompass a wide variety of subject matter.
If you have an idea for a sculpture in your home or yard lets make it happen! Bronzes are also a great way to memorialize a loved one or event.
It would be an honor to talk with you about a design.
Simply put…………..I love what I do!
FEATURED ART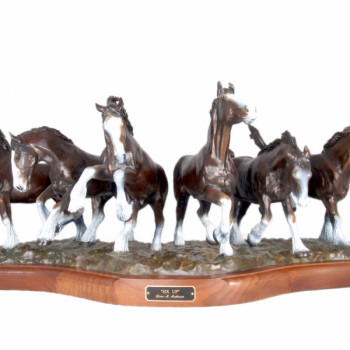 Six Up