Doug Levitt
In the spring of 2011, Doug Levitt was honoured by being inducted into WestGuild and is recognized as a Master Artist and charter member of this society. WestGuild is an accrediting body honouring Western Canadian landscape and lifestyle artists who have made significant contributions to connecting people, community and art.

He was selected by the Calgary Stampede in 2008 to paint the image for its promotional poster. The original painting was auctioned for $63,000 the following year. Doug has also won Artist Choice, Collectors Choice and Best of Show booth at the Stampede.

He paints anything that interests him, including portraits and plein aire landscapes, but his through line is western art and culture – particularly Native/First Nations themes. These were inspired by dream images from early in his career. "I'd keep dreaming these vivid images of Native people and they were so clear in my mind, all I had to do was close my eyes to recall the image and then I'd paint it. If I got lost, I'd just close my eyes and 'see' the image again and keep painting – and I never remember my dreams as a rule – so that struck me as a special thing," Doug says.

Although Doug Levitt always wanted to be an artist, he was actually too chicken to try painting through most of his life, even though he drew avidly as a kid. "Something about it just intimidated me, I was scared I'd be terrible and embarrass myself, I guess." Almost dying in an accident in 2001 changed his mind and focus, however, and armed with a fresh load of art supplies (none of which he knew how to use at the time) he decided to conquer the demon. He was surprised by the strong positive reaction from friends and family over his first pieces of art and, since he had a lot of time on his hands to recover physically from his accident, he decided to try entering shows and selling his own works. He has been painting full time ever since.

FEATURED ART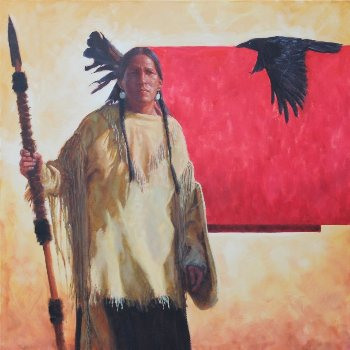 Harbinger