Jennifer Dale Stables
Jennifer Stables is the artist, author, and educator behind Jenny Dale Designs.
I create whimsical artwork with poetry and I have recently published a hardcover book titled Greenie the Wheat King.
Art has always been a part of my life and I have been painting and drawing for as long as I can remember. I received my Bachelor of Fine Arts in 2001 and my Bachelor of Education in 2005 from the University of Calgary. I taught kindergarten for nearly 10 years before starting Jenny Dale Designs. I continue to teach art in schools as an artist in residence.
My art is an invitation to travel back in time and into a world of make believe. My images evoke memories from the past while communicating a soulful depth of character. I paint about love and joy, and much of it is intended for children's rooms and nurseries. I couldn't think of a better audience to share my art with than children.
The poetry I write to accompany each piece helps bring the character to life. Through it I am not only telling the story of the character, I am sharing a piece of myself. Some poems are an outpouring of love and emotion, while others are simply playful rhymes.
My newest book, Greenie the Wheat King, is a heart song of the prairies told from the perspective of a wooden grain elevator. Weaving together heartfelt poetry and endear illustrations, it is a tribute to rural life in western Canada and to the prairies of the past.
FEATURED ART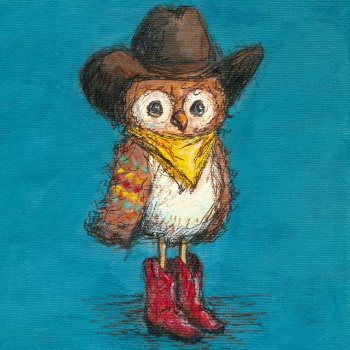 Cowboy Owl