Jody Skinner
Equine Artist Jody Skinner works with oils on linen. She uses palette knives to provide rich texture to her canvas. Jody was raised in Alberta on a ranch in the foothills of the Rocky Mountains where her love for horses developed and is the foundation upon which she creates her limited number of equine art paintings each year. Each piece of original equine art depicts modern horse life, from the rodeo to the wild horses of Canada and the United States.
Jody was the Calgary Stampede Poster Artist in 2009. She painted the famous bucking horse Grated Coconut. 
Jody Skinner has received numerous awards over the years with the Calgary Stampede Western Showcase. Her art is featured in prominent corporate, hotel and private collections.
FEATURED ART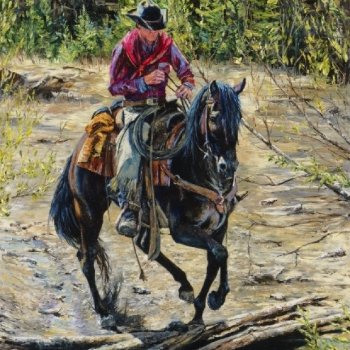 Powder Face Trail