Julie M Jackson
Julie Jackson, Artist Statement
I think I have always been a visual learner. Often when I see something interesting or beautiful I ask myself, "Can I do that?" Sounds cheesy, but true!
So, my journey to becoming an artist has been an evolutionary path of lifelong learning! Simple goals created challenges; some known and some unknown (the ooopses! and oh nos! or "happy accidents" as my mentor used to say). So through each and every project I learned, especially if it was from a mistake!
I am primarily self-taught through many workshops using different mediums from drawing, pen and ink, pastel, oil, porcelain painting, and now my preferred medium, watercolor.
I choose subjects that seem to surround me almost everyday. Living in northern Alberta, I suppose it is natural that most of my works are landscapes, wildlife, florals, old buildings, pets, etc. My subject matter is always around me and of ready reference. I also tend to paint in season, which I suppose only makes sense too!
Now that 40+ years has passed along the evolutionary path to becoming an artist, I can honestly say that I have learned and continue to learn and grow as an artist. Project after project I learned to look and see things differently and perhaps more closely.
I endeavor to capture that moment in time that transports the viewer to a positive, pleasing, relaxed place in time, whether past, or present.
FEATURED ART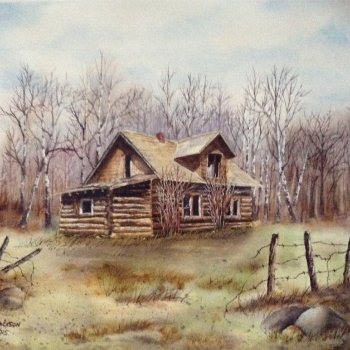 Bonanza Log House, Bonanza, AB.
High Prairie, Alberta
Canada, T0G 1E0
Phone Number: (780) 523-2681