June Ellis
June Ellis is an artist specializing in oil and acrylic. She likes to paint the beauty of Prince Edward Island in her paintings. This includes lighthouses, beaches, red cliffs, country fields and flowers. Her art work creates a calming feeling for anyone looking to decorate their home or as a gift to a loved one.
June began painting in 2000 and has taken classes from several well-known Island instructors. She continues to paint in her home studio and exhibit her work at galleries and resorts on Prince Edward Island.
Although spending many hours at full time work and raising six children with her husband on their 300 acre family farm, (all of the children were heavily involved in sports) June always found time to practice her talent and display her work at several galleries and on her website.
Please feel free to visit my website where 95 paintings are on display. I have also done several commissioned pieces. To keep with confidentiality, I have not posted those paintings on my website.
FEATURED ART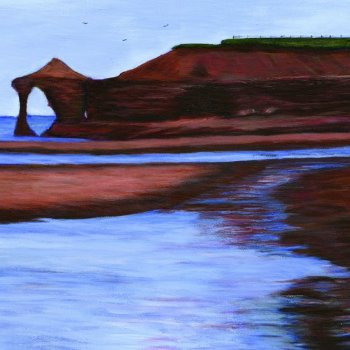 Red Cliffs
Website: www.juneellis.com
East Bideford, Prince Edward Island
Canada, C0B 1J0
Phone Number: (902) 439-8774