Karin Richter
Karin Richter
CSPWC, SCA, ASA, PAC
Master Pastellist (MPAC)
For Karin Richter, art has always been an essential part of daily life. Born in Germany, her family nurtured her ability and interest from an early age, and encouraged her to pursue art as a career. However, deciding to follow a path with more steady income, Karin became a translator and interpreter for international companies in Germany, France, and eventually Canada.
During Karin's travels, painting remained a constant companion, her passion and skill growing steadily until finally, after moving with her husband to Calgary in the late 1970s, Karin decided to make art her full-time career. While staying at home to raise her children, Karin began joining art groups and became active as a volunteer to do her share and to learn the ropes of putting on exhibitions. Twenty-five years later, as an elected member of many prestigious art societies across Canada, she is still enthusiastic about organizing her fellow artists and has been instrumental in bringing projects to fruition that benefit artists from different regions in Canada. Her volunteer involvement with several societies has been significant. In her role of Exhibitions Chair, she is still organizing local, provincial and travelling exhibitions.
Karin's gifts for art and mentorship have led to sharing her devotion to the arts in many arenas, including classes and workshops for art organizations, community art colleges and senior centres. She serves as a curator, juror and critic. Karin has used her love for languages and travel to organize and conduct painting holidays on land and at sea in Canada and overseas. She has participated in countless exhibitions, receiving many honours for her work. She is the recipient of the 2010 Immigrant of Distinction Award in recognition for her contribution to the arts.
Karin's all-consuming passion for art is evident in her colorful paintings, inspirational teaching and community spirit.
FEATURED ART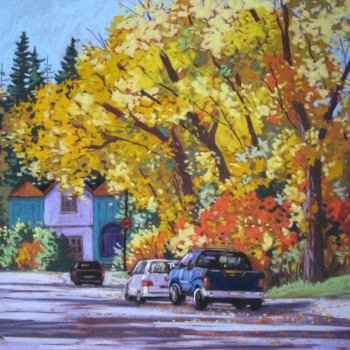 Autumn Sparkle