Karin Taylor
Karin Taylor is a dutch born wildlife artist.
She started out as a watercolor artist in the early 90's and very quickly realized 'wildlife' was and still is her preferred subject matter.
She and her family lived and worked in the Middle and Far East before emigrating to western Canada in 1997.
The last 17 years Karin lived in the foothills west of Calgary, she now resides in Vancouver.
Karin prefers unusual canvases and materials and consequently produces unique and different works of art: she previously used life size boulders and wild turkey feathers as her canvas..
Currently she sculpts 3D statues out of wood cellulose (unique to Canada) and uses mixed media and acrylics for her wildlife paintings.
She has exhibited her feather and 3D at the Western Art Show and the Gallery of the Calgary Stampede for over 15 years and she has done tv specials for HGTV and Chinese/Canadian TV.
Her work can be found at her studio, local art shows and occasionally in (mostly west) Canadian galleries.
FEATURED ART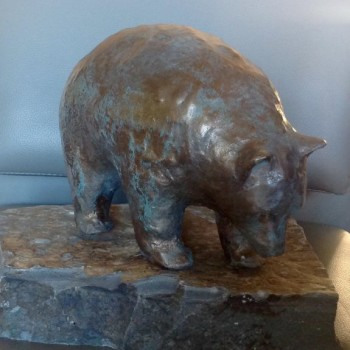 Waiting For Fish...