Kim McLennan
Kim McLennan is currently living on Vancouver Island where she finds her inspiration for her art in the beauty that surrounds her.  It has only been recently that she has been able to dedicate her time to her art, and primarily paints in acrylics, though she is always open and eager to explore other mediums and new techniques.  Kim has some formal arts education starting with a focus on commercial application, then moving on to focus in fine art. 
Kim may not have been able to dedicate all of her time to her art, but has always kept a foot in the arts scene whenever possible. She has been Executive Director of a community Arts Council and Centre as well as board member for a few other councils and an art gallery.  Kim has juried and curated several shows in a variety of venues.  She was part of the management team for an arts cooperative and created Art 4 Wellness a company dedicated to helping others through creative exploration. 

Over the years Kim has painted when able and has always had a passion for wildlife and the ocean, which is the theme in most of her current work.  Kim enjoys painting her subject in a realistic style,  she is also excited by abstract work and has been exploring the many creative possibilities this style of painting offers the creative spirit.
FEATURED ART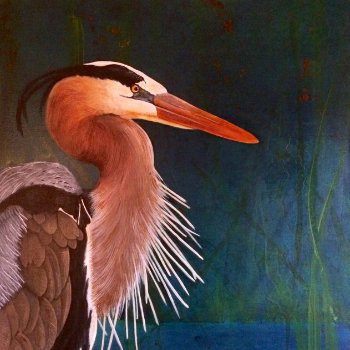 Be Still
Port Alberni, British Columbia
Canada
Phone Number: (250) 735-4565