Laura Levitsky
Canadian nature artist, Laura Levitsky, has gained acclaim for her spectacular depictions of the natural world. Inspired by her surroundings in British Columbia, Laura paints from a depth of knowledge and passion. An outdoor enthusiast, she travels frequently to research her subjects in their natural habitat, believing that there is no substitute for personal experience. Whether it's the research of her subjects that take her on her outdoor excursions, or her outdoor excursions that take her to her subjects, Laura's field studies allow her to recreate the natural settings of her subjects.  
"Art is where I go to explore and express.  I get lost in it.  It is the only thing I seem to have an infinite patience for as I can sit for hours and meticulously paint every hair of lichen growing on a tree." 
Laura always had a love for nature and painting.  Growing up in Regina, SK and travelling through the US where she was born, she felt she was continually exposed to the beauty of natural landscapes from the golden prairies of Saskatchewan to the canyons and lush forests of Yellowstone National Park. Although she painted and sketched throughout her elementary and high school years, it wasn't until the fall of 1999 that she settled into her passion for painting.  She became self-published in 2003, and by 2014, became recognized as one of BC's representational wildlife painters with awards from Provincial and National organizations such as Ducks Unlimited Canada, BC Wildlife Federation and the Pacific Salmon Foundation.  Her original works have been juried into both group and solo exhibitions.  Laura's prints can be found in private collections across Canada and the United States.
FEATURED ART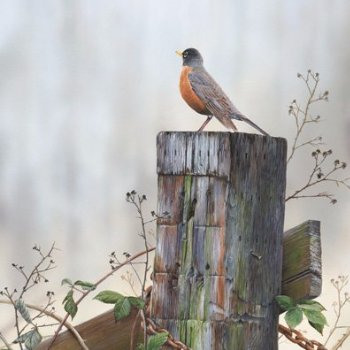 Mornings' Song
Website: www.levitskyart.com
Chilliwack, British Columbia
Canada, V2P 2A2
Phone Number: (604) 703-5278