Laurene Spino
Growing up in Montreal, I looked forward to summers spent in the lower Laurentian woods exploring the natural world. I inherited my kinship with nature from my father and it was my mother's unfailing encouragement that allowed me to develop my affinity for drawing.
I pursued my love of nature earning a BSc. My areas of study were marine biology and ecology.   I now apply this knowledge to my artwork focusing on texture and anatomy as well as natural history to bring my subjects to life.  I work primarily in graphite and pastel powder, but also enjoy working in pen and ink and watercolour in an illustrative style.
My work has appeared in several publications including Strokes of Genius 6, 7 and 9 published by North Light Books, as well as in "Art journey Animals: A Collection of Inspiring Contemporary Masterworks".
I have also been fortunate to have designed two collector coins for the Royal Canadian Mint.

FEATURED ART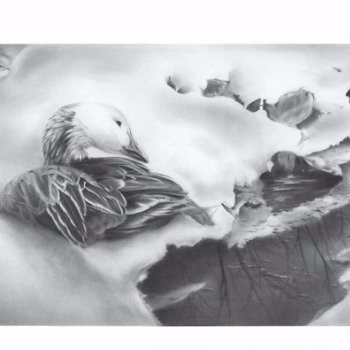 Blue Phase Snow Goose - Oie des Neiges Phase Bleue