Laurie Cairns
Artist Statement:
I think of art as a universal language that has the power to connect people from all over this earth. Art viewers each have their own perspectives, experiences and memories that allows them to interpret art in a way that is meaningful to them.
We do not need to speak the same words in order to connect, to share and appreciate art.
I love colour and the great outdoors!
My inspiration to put brush to canvas comes from my lifetime of outdoor experiences. My paintings are of places I have been and have left an impact on me. My challenge is to create canvases that celebrate the beauty of these places. I attempt to capture not only the colour and light but the feeling I had when I was there.
I enjoy exploring colour, texture and loose fluid brushstrokes. My process begins with value sketches, plein air studies and photography. I get outside to paint as much as I can.
Artist Bio:
Laurie is a contemporary landscape artist from Oshawa, ON working in both traditional oils and acrylics. She fell in love with painting as a teenager many moons ago. Primarily self taught, her painting hobby had mostly been put on the back burner over the years while life took up all her time. Laurie has taken numerous classes and workshops from local artists she admired over the years to in attempt to keep her paint brushes limber. Retirement and covid isolation has recently given Laurie generous amounts of time to reconnect with her hobby and paint brushes.  What she discovered was a desire to paint constantly. Laurie has since remodeled her life so she can paint daily. Art now has a huge presence. She eats, breaths and sleeps thinking about art and the next painting. Laurie is always learning and is continuing to attend many artists workshops and art group meetings via zoom. 
FEATURED ART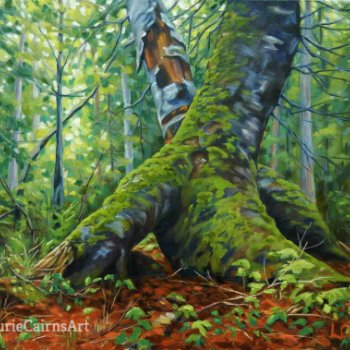 Listen