Marie Neys
"Art has always been part of my life!"
Marie Neys has always challenged herself to study. Many of the art styles she has mastered include acrylics, ink & rouge, pen & ink, pastels, watercolour, sculpture, pottery and calligraphy.  Her current medium Oil on Canvas, showcases bold, accurate color & immediacy with impasto palette knife & brush strokes.
Marie divides her time between the rolling hills, vast plains and big sky country of Southern Alberta and the towering trees, cool breezes and unending ocean of West Coast British Columbia.
Both Inspire her! 
When on Bowen Island, you will find Marie walking the Cape Sea Walk, down on the Beaches of Tunstall Bay and meandering the many trails that are inland amongst the towering cedars, hemlock and Douglas fir.  Her Palette of Pthalo Blue, Transparent Red Iron Oxide, Sap Green, etc meld to create the art rich in hue and texture.
Her Current West Coast Series includes "Great Day at the Cape, Broken Islands, Arbutus Lost, Morning Light Alders, To the Beach and more" This is an ongoing series, comprised of over 20 paintings.
When you meet Marie, you will realize there are 2 forces that drive her artistic side. The creation of art and the business of selling art. You may find yourself getting caught up in that passion. Many have said they learn something about themselves as either an artist or collector after meeting her. Should you wish to contact her about art, instruction, or framing of your own art pieces, or for further information, please do so at (780)720-5268. She appreciates your consideration of her art.
FEATURED ART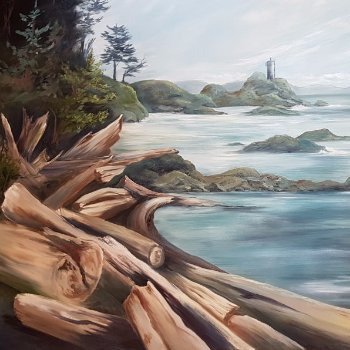 Great Day at the Cape
Website: www.marieneys.com
Bowen Island, British Columbia
Canada
Phone Number: (780) 720-5268