Mary A. Simms
I am an artist who believes that to find who you are you must continue to push and try new things. Whether it be subject, media or style I will work on it until I understand the technique and produce the piece that either I or the client is looking for. Art has always been a part of my life starting to draw from age two I have only stopped once for a period of a month. What I found was that creating is such a deep part of my being that I become an emotional mess that I vowed that I would never doubt that art was a part of my being. 
Throughout my life I have been fortunate to have my families totally support my aspirations. They have not only made sure I always had the tools I needed, they also helped shape how I viewed the world. My parents went so far as to turn one of my high school assignments into a family outing. My mothers advice that the secret to learning how to create new images was to practice, practice practice and my father teaching me the importance of having interesting negative space and balance can be seen in my art to this day. My husbands encouragement and allowing me the freedom  to strive to create larger imagery and to explore the art in my soul. My children's understanding and their ability to show me different ways of looking at things have all rolled together to creat the artist who has the ability and confidence to chance down and achieve goals  
My creations have now found homes in five different countries around the world and my fan base is diverse not only in age but nationality.
i have had my work appear in many juried shows and galleries throughout Southern Ontario and hope someday to do so throughout Canada and Internationally .
FEATURED ART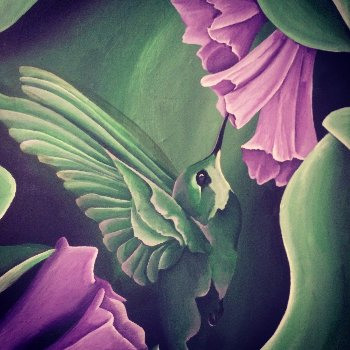 Feeding Time