Penny Gabor
"I don't ever remember a beginning to art in my life - it was always there. I do remember that my Grandfather (an artist and violinist) gave me my first set of oil pastels which I cherished and guarded with my life. I remember dragging home broken hockey sticks that I had found and convincing my father to build me an easel out of them. I don't know if I ever dreamed of 'being' an artist - It just kind of spilled out of me.
But life rarely takes us in a straight line.
As I prepared to enter post secondary education, I had a number of negative experiences around art that left me believing that I could never really be an "Artist".
I took a few art classes in University. I got married. I became a mother. And life carried me along.
It would be another gift, one of alcohol inks from my husband, that would reignite my love for painting again.
That gift, along with the bravery that comes from a few years of life experience, has brought me to this place of calling myself an emerging artist and launching my work for the world to see.
I believe that beauty is nourishing to our spirits and feeds our souls. While I recognize that each beholder sees beauty in different ways, it is my heart and practice to make beautiful artwork.
Inspired by nature in colour, shape and texture whether in a landscape or an abstract piece, I seek to bring a little bit of 'life' to the beholder whether it be in joy, inspiration, or simply the admiration of the beauty all around us. I am so thankful for this journey I've been on and for this season of richly enjoying art in my life again. My heart is full."
Alcohol ink is a solution of dye dissolved in isopropyl alcohol. Alcohol ink is recognized by it's intense, highly saturated, translucent colours. It was this medium that captured her attention and respect. Because they are an alcohol product, unlike other paint, the colours don't lay on top of each other, rather they push each other out of the way and interact with each other. This reactive nature, along with their vibrant colour and translucence has captivated Penny. She has been hard at work since that Christmas "playing" with these inks and learning how to create beautiful things with them.
Penny was juried just this year with the Saskatchewan Craft Council and is excited to see where this new artistic journey will take her. You can find Penny's collections online at PennyGaborArt.com and at several craft markets each year such as the Deck the Halls Craft Sale in her hometown of Caronport, SK. She is looking forward to her first Wintergreen and Bazaart sales this fall (2018).
FEATURED ART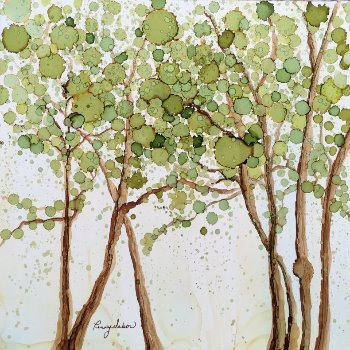 Spring is in the Air