Ray E Swirsky
   I consider my work to be realism.  A hazy blue sky above becomes a soft yellow as it melts into the horizon. Bold coloured majestic peaks above slowly fade away behind a smoky haze in the distance. Bright sunlight dances sharply upon ones silhouette nearby but barely touches those in the distance. It's these changes in colour, value, and intensity in nature that I seek to create within my compositions and use to create a sense of reality.
As an emerging artist, having only started painting in the fall of 2014, I have yet to settle on just one type of subject matter. I challenge myself with each new painting trying never to select the same material back to back to force myself to become more efficient and skilled with my tools. My catalogue of work ranges from elephants to mountain scenes, from a water bomber over a raging forest fire to a portrait of a small child smelling flowers for the first time.
Mostly, I like the journey of creating and then letting go, like a bird leaving the nest, knowing that someone somewhere will be enjoying each piece for many years to come.

FEATURED ART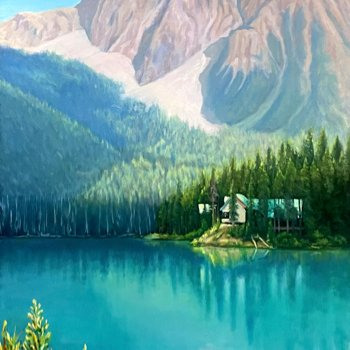 Emerald Lake