Rena Bierman
I have painted, been involved in galleries, art shows as an artist, curator and director, as well as being an instructor for many years. In 2003 I was retired with my husband in Kelowna, B.C., and in 2007 tragedy struck. After relocating from Kelowna to Cochrane, Alberta in 2008, I re-invented my art, came out of retirement and began again.
I began painting "living " flowers and fruit as my full time focus in 2011. After building a body of work with that subject matter, my art is now represented in Alberta, British Columbia and Arizona.
I have also had my floral paintings published in Arabella, Canadian Art, Architecture & Design, Southwest Art Magazine, as well as Xanadu's collector's Art Catalogue. "The Love of Flowers", Published by Arabella in 2017 (a hard cover book) features floral artists from North America, and my work is featured in 9 pages of that book.
I distinguish my florals and fruit as "living" because that's exactly what they are. They are not cut down, put in a vase, nor are the fruit picked and put on a plate. They are as you see them in nature — alive.
Tramping through the flower gardens, orchards, and vineyards in British Columbia and the Niagara region, I photograph the resource material that I use. Generally I go home from garden markets with several potted plants, and I don't go for a walk without my camera; I never know for sure what flower I will find along the way with the perfect light.
At home, the temperatures dip below sub-zero: the snow piles up: I break my arms shoveling it away:
but in my studio, I experience summer !!!
Flowers are blooming and fruit are ripening. A great winter escape to be able to enjoy this warmth on my walls. I love to paint large. Larger than life with a three dimensional impact which is fully felt.
I paint my colours in full chroma since flowers and fruit are not too shy to display their lavish colour. They are created to attract; I can do no less. Realistic, romantic and painterly, but not photographic.
I hold the petals between my fingers and attempt to make them look like they feel.
Captured in their prime by the hand of the artist. My hand!!
March of 2016, my paintings have been chosen to be part of the VIDA label by the SanFrancisco based fashion apparel manufacturer. So I am working as a VIDA Artist/Designer to create a collection using my original paintings. My fashions can be viewed at:
http://www.shopvida.com//collections/rena-bierman
FEATURED ART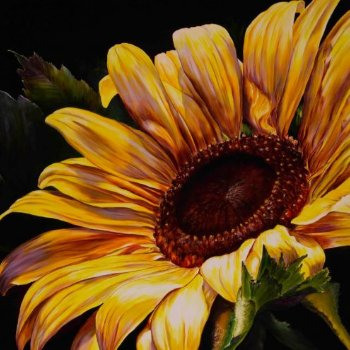 Sun Kissed