Roberta Murray
Roberta Murray was born in Calgary, Alberta but now makes her home in the country
southwest of Rocky Mountain House. This location works together with her deep love of nature
and the land, to inspire her work.
Working mostly in oils, Roberta strives to produce evocative paintings that allow the viewer to
create their own stories or interpretations. Her main focus is on impressionist landscapes with a
special emphasis on big skies, which is a nod to both her great great uncle Frederick Cross, and
the many years she has spent as a volunteer weather watcher for Environment Canada.
Roberta finds inspiration in the work of Soviet, Dutch, and French Impressionist, amongst others. She is a juried member of the Federation Of Canadian Artists and Oil of Painters of America. Her work is represented by Fallen Leaf Gallery in Canmore, Gust Gallery in Waterton, Leighton Art Centre in Priddis, and Gallery on Main in Lacombe. It is held in collections across Canada, the US, and the UK.
FEATURED ART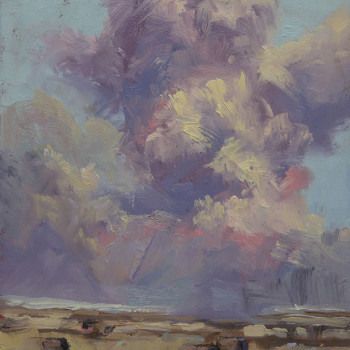 That Prairie Sky
Website: www.robertamurray.ca
Rocky Mountain House, Alberta
Canada, T4T 2A2
Phone Number: (403) 845-4689