Robin L. Thibodeau
Greetings from Okotoks, Art In Canada Fans:) 
I'm excited to be a part of the wonderful support and kindness I keep hearing about from Lynda and this most excellent website. 
As an honours graduate of ACAD, a lover of a multitude of musical styles and genres, I am still primarily a representational artist with a goal to fill the world with more artists through my workshops, fantasy fine art camps and regular art lessons.
I work in a variety of mediums including soft pastels, graphite, acrylic, charcoal, pencil colour, art markers, water colour, calligraphy, clay sculpture, pen and ink, hand-built pottery and jewelry. My inspirations come from everywhere, any time period, belief system,  mythological study, historical themes as well as book or film series. 
When I'm in my Studio, time stands still or do I leave this plane and follow some form of astral travel? Those endless creative trains that take me down some fascinating paths... with so many ideas and innovations fill my mind, remembering to stop and have a meal or go to bed before the next day take a back seat! People have actually described my work as having a strong spiritual flavour that travels the world. I have taught students as young as 3 and as golden as 86. 
My work experience for the past 18  years within creative industries are have been varied as well, but working as an art teacher in my community, a preschool teacher, an artwork framer and most recently an event planner for The Okotoks Arts Council's "Wizarding World of Okotoks: Hogsmeade Village" art market, have brought me the most joy.  
I look forward to any new creative opportunity to sell my work, share my gifts or engage in creative social where inspiration fills my heart and soul! 
FEATURED ART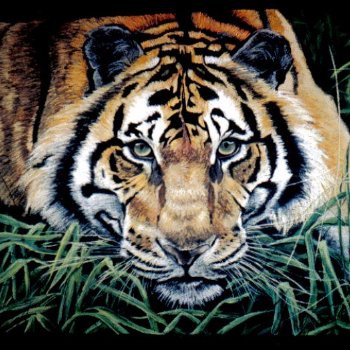 Bengal Tigress