Ron Plaizier
Ron grew up in the Chateauguay Valley on the south shore of the St. Lawrence River in rural Quebec. His mother, Rita, was a local artisan, well known for her work in soap stone carving, needlework and egg etchings. 
Ron's mother was never idle with her hands, constantly creating something and quite often working on multiple projects at a time and it's her creative drive that Ron fortunately inherited from her.
Ron later moved to Ontario to start a family with his wife Judy and now have two grown up sons Justin and Kyle. It was his love, shared equally by his family, for the outdoors, canoeing and kayaking that helped him develop a keen sense of observation and attention to detail. 
It wasn't until his late thirties however that he would apply those skills initially to create detailed wildfowl carvings using wood and acrylics as my medium of choice. Competing professionally in Ontario at various Wildfowl Carving competitions, Ron was fortunate to have won numerous awards for his creations. 
"Working in this 3-dimensional art form forced me to develop an intimate understanding of wildfowl anatomy and detail. I now work primarily in the 2-dimensional art form of painting using acrylics on canvas or mason board and specialize in capturing meticulous detail with a balance of artistic composition and lighting that I hope results in work that captures the your attention, peeks your interest and lures you in. "
More recently Ron competed in the 2016 Buckhorn Fine Art Festival winning second place as well as People's Choice Award and as a member of the Belleville Art Association Ron entered and was accepted in their Juried Art Shows and won the People's Choice award there as well. 
Some of his work currently hangs at Quinn's of Tweed Art Gallery, Select Art Gallery in Newmarket Ontario, as well as his own personal Art Gallery in Marmora Ontario. Ron is also a member of the Artist for Conservation Foundation, a non-profit, international organization dedicated to the celebration and preservation of the natural world.
"In my artwork I hope to not only present something appealing to nature and art lovers but also perhaps raise environmental awareness and the importance of wildlife preservation."
Ron
FEATURED ART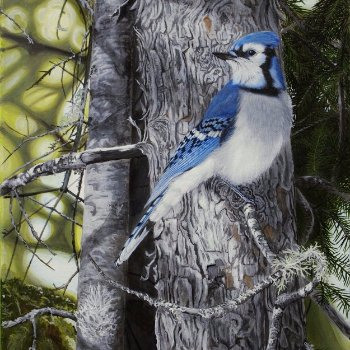 Forest Veil - Bluejay