Shannon Ford
SHANNON FORD BFA (b.1959, Canada) is one of the most noteworthy animal painters at work today. Her intuitive style of painting is catching the attention of collectors and artists alike. Arabella Magazine calls her an "Artist To Watch"; gallerist Marjo Witteman Thompson states she has an "intuitive and stimulating, vibrant, confident expressive style of painting"; Art Collector, Horse Breeder and Veterinarian Dr. David Ward calls her an artist with the "exceptional ability to capture the spirit of the horse"; and even the Okanagan's Penticton Herald has labeled her a "rising star".
Solo exhibitions for 2016 include "Spirit of the Wild", Mountain Galleries, Whistler BC, (February); and "Gemstone Horses", her much anticipated showing at the Public Art Gallery - Lebel Mansion in Pincher Creek, Alberta (July-August).
In 2015 Ford was one of the Official Artists of the Equus Film Festival, NYC; was subject of a 2014 tv short , Painted Ponies (Shaw TV, Wayne McDougall); and is collaborating with a Montreal fashion house to release a line of luxury ladies wear.
She has been featured in international press, including Elite Equestrian Magazine, Arabella - Canada's leading national magazine of Art, Design and Architecture, The Penticton Herald, The Western News, Kelowna Journal, Lethbridge Herald, and more. She frequently donates to charitable associations.
Shannon lives and works in British Columbia, Canada, and is represented by Galerie d'art Au P'tit Bonheur (La Malbaie, Quebec), Gainsborough Galleries (Calgary, Alberta) and Mountain Galleries (Jasper, Banff, Whistler)
http://www.auptitbonheur.com
http://www.gainsboroughgalleries.com
http://www.mountaingalleries.com
FEATURED ART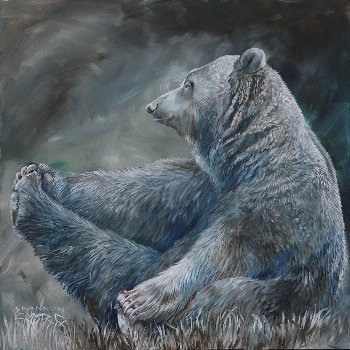 Pensive Grizzly
Website: www.shannonford.ca
Denman Island, British Columbia
Canada, V0R 1T0
Phone Number: (250) 809-4583