Sheila Chubak
I was born and raised on a farm in Northern Saskatchewan.

Growing up I did a lot of sketching mostly of horses and landscape scenes.
I have always loved living in the rural areas and enjoy going horseback riding, ATV's, camping, fishing and of course painting. The outdoors have always filled me with a sense of calm and awe. It is where I feel most inspired to paint, hoping to capture not only the beauty of what I see but the feeling as well.

I really enjoy doing many different scenes and painting just for the joy of it. My paintings range in subject widely, as I paint what speaks to me. It is a very special feeling to actually accomplish the picture as I want it to be.
When someone looks at one of my works and says "I want that to hang on my wall" I feel a sense of thankfulness and gratification. Then I have really accomplished something.
Now that my kids are grown with kids of their own, I have the time and space to go back to the things that inspire me... just for myself. And to share them with the world.
FEATURED ART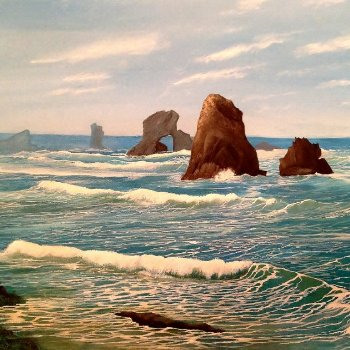 Oregon Coast