Sue Allison
Sue Allison is a well known artist in the Owen Sound Area. Her paintings portray mystical and magical wetlands and notable heritage buildings in Grey Bruce Counties and other surrounding areas.
Sue is an honours grad from Ontario College of Art in 1971... specialized in Communications and Design with special interest in fine art.
Working for the Ministry of Natural Resources in the 70s as Exhibit Designer began her career working closely with biologists and naturalists  which gave her a deep appreciation for the environment in this area. 
Sue began watercolour painting in 1978 developing her distinctive techniques which are quite recognizable if one knows her paintings. Her artworks are in private collections around the world.
Presently her paintings are comprised of watercolours, acrylics and oils.
Sue is presently engaged at the Georgian Bay Centre for the Arts 
 teaching sketching, watercolour and oil techniques.
On occasion you might see Sue on location capturing "one of those beautiful vistas"
FEATURED ART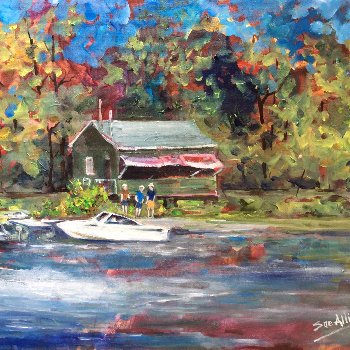 Cabin#5