Wendy R Walker
Wendy was raised in rural Manitoba where nature and wildlife were close at hand. Her inspiration comes from these memories. She paints a variety of subjects and settings as each offers the opportunity to use the paint in different ways. References are gathered from photographs taken on hikes, holidays and drives in the country.
Wendy's artwork is detailed, drawing attention to the colours, reflections, and movement that are a part of each composition. Her acrylics express the mood of the moment, whether it is a misty morning along a shoreline or a vibrant fall display of golden aspens. "Painting a variety of subjects is an opportunity to share with others the enjoyment that I feel for each setting and to challenge me to grow my artistic skills."
Wendy was introduced to acrylics by a friend and began actively painting in 2007 when she joined a local art club. She continues to develop her artistic skills through workshops with other accomplished artists and through participation in art organizations. She is an active member of the Cochrane Art Club, Riverview Artists Association, Federation of Canadian Artists - Calgary Chapter and is a past member of the Foothills Art Club and the Leighton Art Centre. Her work can be seen at local art shows throughout the Calgary area.
FEATURED ART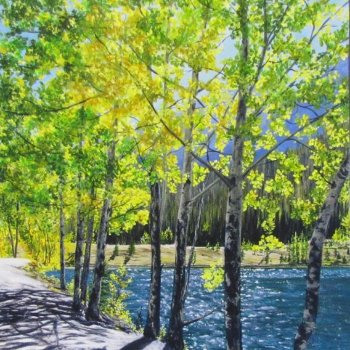 Afternoon Shadows, Quarry Lake